Why come to abc ivf?

We pride ourselves in offering excellent IVF success rates, well above the national average, whilst remaining true to our commitment to offering the most affordable IVF treatment in the UK.

Our simplified, yet successful approach to IVF treatment is the culmination of many years of research and testing by Professor Geeta Nargund and her team at our partner clinic, CREATE Fertility.

We are dedicated to making IVF pricing as transparent and clear as possible, so we've designed a Complete IVF Package. There are no hidden charges, surprise extras or add-ons, just one all-inclusive price.
All-inclusive IVF treatment for one price
Our Complete IVF Package includes absolutely everything you need, even medication. At abc ivf there are no hidden costs, extras or add-ons, just one all-inclusive price.


You'll pay
no more than £2,500
New affordable payment plans
We now offer simple & affordable payment plans so you can spread the cost of treatment.
Excellent IVF success rates
Our expert medical team, specialist protocols and technology allow us to consistently deliver success rates higher than the national average.

Simply put, we give more people a better chance of having a baby. Success rates shown are for abc ivf patients at CREATE Fertility, where procedures & embryology take place.


View our success rates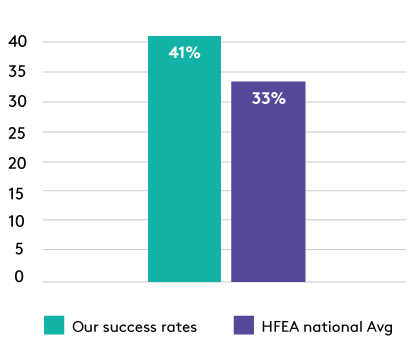 Clinical pregnancies per embryo transferred | IVF & ICSI | July 15 - June 16 | CREATE Fertility St Paul's

For more information please visit HFEA
Putting you first
Professor Geeta Nargund
& her team, have been at the
forefront of research into
delivering high quality,
successful IVF at an affordable cost. 

abc ivf is the result of their efforts
to make IVF treatment accessible to more
women and couples than ever before!

Find out more
Book your appointment
The first step to starting treatment with us is to book an Initial Consultation & Scan
Book appointment