Reciprocal IVF at abc ivf
Reciprocal IVF (also known as 'Shared Motherhood IVF', 'Intra-partner egg donation' or 'Partner IVF') allows both partners in a same sex female couple to play a vital role in the conception, gestation and birth of their child. It is a relatively new but well-known method, used worldwide.
Over the years we've supported many lesbian couples trying for a baby, if you have any questions about Reciprocal IVF at abc or how to start treatment please contact our experienced team who will be happy to help.
Both female partners will need to have an ultrasound scan to assess their fertility and have a joint consultation to discuss the results and their best treatment options so please call us to book.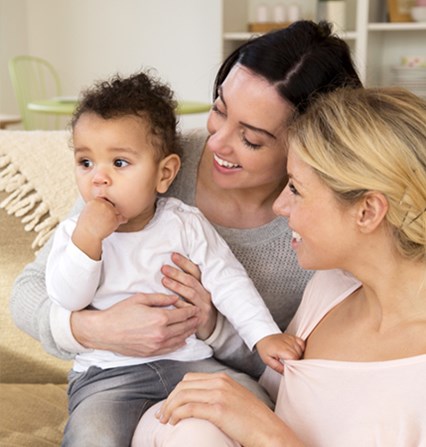 What is Reciprocal IVF/Shared motherhood?
Reciprocal IVF/Shared motherhood is an assisted fertility process where one partner (the 'biological mother') undergoes an IVF cycle with fertility medication, in order to collect her eggs and donate them to her partner. Once these donated eggs are fertilised with donor sperm to create embryos, the other partner (the 'birth mother') then undergoes an embryo transfer with one of these donated embryos, in order to carry the pregnancy.
The partner donating her eggs must have a good egg reserve, and the partner receiving the embryo should have a healthy uterus and ovaries to ensure good implantation. Your scan results and best options for success will be discussed during your initial consultation.
Is Reciprocal IVF suitable for us?
At the start of your Reciprocal IVF journey, you will both be offered an initial medical consultation and detailed pelvic scan to ensure that this treatment is right for you.
The detailed pelvic ultrasound scan offered by ABC will provide helpful information regarding egg reserve and the health of the uterus and ovaries.
To have the best chance of success it is important that the partner donating her eggs has a good egg reserve and that the partner receiving the embryo has a healthy uterus. The results of these scans and the best options for success will be discussed with you in detail at your initial consultation.
We can help with Donor Sperm
If you require donor sperm, our partnership with CREATE Fertility allows our patients access to a selection of donors.
CREATE only accept the highest quality of sperm from donors who have passed a strict HFEA screening process. This is to ensure that we offer our patients the best possible success rates.
We will work with both partners to ensure we find a donor to match the couple's specific characteristics. We have details of skin, eye and hair colour as well as education and medical history.
If we can't find you a match, we can also accept known donors or donor sperm from some external sperm banks but this will occur an additional charge.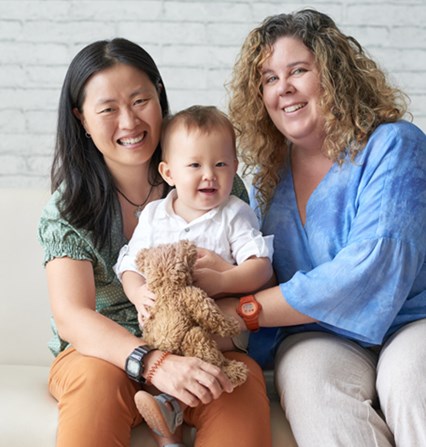 Donor Sperm additional £1,100
What's included in our Reciprocal IVF package?
Our Reciprocal IVF package includes everything you'll need for your treatment:
Treatment consultation
IVF cycle
HFEA Fee
Screening tests for both partners
Medication for egg collection
Medication for frozen emybro transfer
Monitoring scans and blood tests
Clinical advice
Counselling
Sedation fees
Egg collection
Embryo freezing and 2 years storage
Frozen embryo transfer
Pregnancy test
Early pregnancy scan

If you require donor sperm from our sperm bank there is an additional charge of £1,100. In specific cases there may be the need for additional tests or treatments which are not included within our cycle package and will be charged separately. Exact costs will be discussed at consultation based on patients' individual needs. Please read our Cost FAQs for more information on potential additional costs.
The Reciprocal IVF journey, step by step
Advanced Ultrasound Scan & Consultation – both female partners will have an ultrasound scan to assess their fertility and have a joint consultation to discuss the results and their best treatment options. This will include options for donor sperm. Counselling will be offered.
Treatment consultation – The Nurse will go through the consent forms and show how to administer medication. They will discuss arrangements for donor sperm if needed.
Sperm ordered from the CREATE Sperm Bank if needed.
Partner donating eggs 
Call on day 1 of cycle to book scan.
Start taking medication on day 2.
Come into clinic for scans and blood tests to assess follicle growth.
When appropriate you will be prepared for your egg collection procedure.
Come into the clinic to have donor blood tests and egg collection procedure under sedation.
Eggs are then fertilised with donor sperm and embryo development is monitored by embryologists. 
Embryos frozen. 
Partner receiving embryo
Call on day 1 of cycle to book scan in 7-9 days.
Take medication to prepare womb lining from day 2.
Scan to check development of womb lining on day 7-9.
Once the lining of the womb is ready, receiving partner commences progesterone pessaries.
Frozen embryo transfer – the best embryo is transferred into the uterus.
Pregnancy test around 12 days following embryo transfer.
Pregnancy scan at 6 weeks of pregnancy.
Frequently asked questions
Why do we have to have a frozen embryo transfer rather than a fresh transfer?
Egg collection procedures and embryo transfer procedures are both done in time with a women's cycle. It is very unlikely that both patients' cycles will match up perfectly to allow for a fresh embryo cycle. Therefore, the egg collection will be timed with the egg donating partners cycle, then embryo will be fertilised and frozen, ready for when the embryo receiver's uterus is ready for the embryo transfer procedure.
Where do you get your donor sperm from?
We work with only recognised and licensed donor banks to provide the best quality sperm. All sperm donors have to be in good health and are screened for sexually transmitted diseases and some genetic disorders. The sperm is assessed as high quality before being approved for donation.
CREATE Fertility Sperm Bank offer international sperm and provide FREE shipping between our clinics.
We also work in partnership with the Cryos International Sperm Bank and European Sperm Bank where you can access their donor bank and order sperm direct with them.
Is there a waiting list for donor sperm?
Generally, there isn't a waiting list, but it depends on your situation because there is currently a shortage of sperm from BAME communities.
What information can you get on the sperm donor?
The information you will be able to find out is:
a physical description (height, weight, eye and hair colour)
the year and country of birth
their ethnicity
whether they had any children at the time of donation, how many and their gender
their marital status
their medical history
a personal description and goodwill message to any potential children (if they chose to write one at the time of their donation).
You won't be able to find out any information that might reveal who the donor is.
If a child is conceived via the sperm donation, they have the option to contact the clinic when they turn 18 for information on the identity of the donor.