What is ICSI?
Intracytoplasmic sperm injection, more commonly known as ICSI, is a procedure where the sperm is directly injected into the egg, unlike IVF treatment where the sperm and eggs are left in a petri dish to fertilise on their own.

Around half of infertility cases are caused by sperm-related issues; ICSI is the most common and successful treatment for male infertility.
Get in touch
If you have any questions about ICSI at abc or how to start treatment please contact our experienced team who will be happy to help.


All-inclusive ICSI treatment for one price
Our all-inclusive packages include absolutely everything you need during your cycle.


You'll pay
no more than £3,600
Who is ICSI suitable for?
ICSI is recommended to couples with male factor infertility issues such as:
low sperm count
sperm morphology issues
sperm motility issues
ICSI is also recommended for couples who have had IVF previously and have had problems with fertilisation.
Contact us
What are our IVF success rates
Our success rates are well above the national average, making abc ivf one of the most successful clinics in the UK. We are proud to be able to offer our patients high success rates at the most affordable price.
View our success rates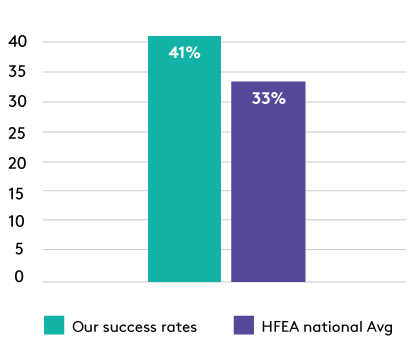 Clinical pregnancies per embryo transferred | IVF & ICSI | July 15 - June 16 | CREATE Fertility St Paul's

For more information please visit HFEA
Book your appointment
The first step to starting treatment with us is to book an Initial Consultation & Scan
Book appointment