Donor sperm IVF package
If you need donor sperm to complete your family, we can help you by offering an affordable IVF Package which includes everything you'll need during your treatment cycle.

Our All-Inclusive IVF and Donor Sperm Package is perfect for lesbian couples, single women or heterosexual couples who require donor sperm to have baby.

We can help you find a sperm donor and guide you through each step of your journey to ensure creating your dream family is as straightforward as possible.

If you have any questions about IVF at abc or how to start treatment please contact our experienced team who will be happy to help.

Call 0330 0580 800
Book appointment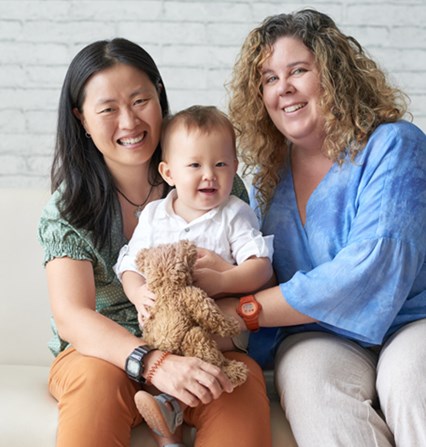 Choosing a sperm donor
When it comes to choosing a sperm donor, our partnership with CREATE Fertility allows our patients access to a selection of donors.
CREATE only accept the highest quality of sperm from donors who have passed a strict HFEA screening process. This is to ensure that we offer our patients the best possible success rates.
We will work with both partners to ensure we find a donor to match the couple's specific characteristics. We have details of skin, eye and hair colour as well as education and medical history.
If we can't find you a match, we can also accept known donors or donor sperm from some external sperm banks but this will occur an additional charge.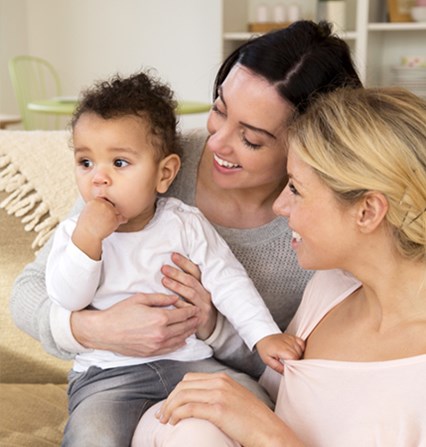 What's included in our IVF with donor sperm package?
Our Complete IVF Package with donor sperm includes everything you'll need for your treatment:
Medication
HFEA Fee
Screening tests
Monitoring scans and blood tests
Clinical advice
Sedation fees
Egg collection
Donor sperm
Embryo transfer
Pregnancy test
Early pregnancy scan

In specific cases there may be the need for additional costs that are not included within our cycle packages and will be charged separately. Exact costs will be discussed at consultation based on patients' individual needs.
Frequently asked questions
What other costs might I have to pay?
Male factor: If you have a fertility issue due to a male factor, you may require additional support and treatments such as ICSI. We have an IVF with ICSI package.
Egg & Embryo Freezing: If you have additional embryos after your embryo transfer procedure, you will be given the option to freeze them at an additional cost. In specific cases there may be a medical need to freeze embryos. You may require embryo freezing, Cryostorage and potentially a Frozen Embryo Transfer (FET) procedure.

Donor Sperm: If you require donor sperm for your treatment, this will come at an additional cost. Donor services need to be organised with CREATE Fertility St Paul's.
Diagnostic tests: In certain situations, your clinician could request that you have further diagnostic testing.
Medication: The medication included in your IVF package is appropriate for most patients to complete their cycle of IVF.  However, as we tailor treatment to each patient's individual need, more medication may be required. If you require additional medication, this can be purchased directly from abc ivf for additional cost.
When do I pay for my treatment?
You will be required to pay a deposit after your Initial Consultation and Scan to secure your Treatment Consultation. The outstanding amount will then be taken after your Treatment Consultation.

Please see our Terms and Conditions for details.
What is the first step to starting treatment?
The first step to starting treatment at our clinic is to book an Initial Consultation and Scan. This is a 45 minute appointment with a specialist Nurse Consultant.
The first part of the appointment includes an advanced Pelvic Assessment Scan which will help us assess your egg reserve, the health of your uterus, endometrium (lining of the womb), ovaries and follicles.
You will then have a consultation with your Consultant who will explain your results, discuss your medical history, answer any questions you may have and talk you through your individualised treatment plan.
If you are ready to go ahead, you can start treatment as soon as your next menstrual cycle.
Excellent IVF success rates
Clinical pregnancies per embryo transferred | IVF & ICSI | Jan 19 - Dec 19 | abc ivf patients | CREATE Fertility St. Paul's
Excellent IVF success rates
We are very proud of our success rates. Our expert medical team, specialist protocols and technology allow us to consistently deliver success rates higher than the national average.

Simply put, we give more people a better chance of having a baby.
View our success rates