Innovative, ethical IVF treatment for couples at home and overseas
If you're interested in overseas IVF treatment with minimal risk and
high-quality service, abc ivf is the place for you.
Located just an hour's ride from Heathrow Airport, our London Harley
Street clinic provides safe fertility treatments through innovative
technologies, simplified processes and the highest standards of care.
High quality, low cost treatment
We understand that UK IVF clinics can be expensive, especially if you're
travelling to the country for treatment. But our innovative services cost on
average £1,600 less per cycle than other London clinics, and we have a
higher success rate too.

So, as an overseas patient, you can rest easy knowing you're being taken
care of in the world-renowned Harley Street medical district, with state-of-the-
art technologies, for the lowest cost in the UK.

Find out how our lower-cost treatment compares.

Compare Us

Accessible IVF for all
So, why should you consider abc ivf if you're planning to come to the UK for treatment? Because our Medical
Director, Professor Geeta Nargund spent over 20 years in NHS fertility in the UK. She knows first-hand the trials,
tribulations and costs couples can go through to start a family, but abc ivf was founded to change that. It was
founded to provide accessible, low-cost and, above all, safe IVF treatments for all.

Excellent success rates
Our success rates are well above the UK average, giving more people the chance to have a family of their own.



Exceptional standards of care
We follow clear cut guidelines and make sure our processes are ethical and safe, because we care about you and your family.



All-inclusive, transparent pricing
No hidden costs, no unnecessary extras and no add-ons, just one, simple all-inclusive price.



Independently monitored
We're regulated by the HFEA (Human Fertilisation and Embryology Authority) – the government's independent inspector for all licensed, UK-based fertility clinics.



Loved by our patients
We take great pride in our treatment and care, and this is reflected in the wonderful reviews from our patients.



Excellent transport links
As a bustling metropolitan city, London has public transport available 24/7 and abc ivf is only an hour from Heathrow Airport, so you can start your treatment fast.


Discover more about us
Regulated to reduce risks
Overseas IVF clinics all follow different guidelines and are held to different standards. In the UK, we're monitored by the Human Fertilisation and Embryology Authority (HFEA), an independent government inspector created to ensure safe treatments for all IVF patients.

But one of the main regulation differences is the law around multiple embryo transfers. Overseas treatments allow multiple embryos to be implanted into the womb – this increases the chance of twins or triplets and therefore increases the risk of complications. The HFEA have a strict limit on the number of embryos we can transfer in UK IVF treatments, to reduce the risk of potential problems.


Examples of overseas and UK regulation differences:
In some countries, unmarried women are banned from undergoing IVF procedures

In some countries, they only allow sperm donations from the couple
In some countries, certain forms of treatment are banned
In some countries, they don't allow embryos to be frozen
Excellent IVF success rates
The average UK IVF success rate is already one of the highest in the world, but we're proud to say our success rate is well above the national average. Simply put, we give more people a better chance of having a baby.
View our success rates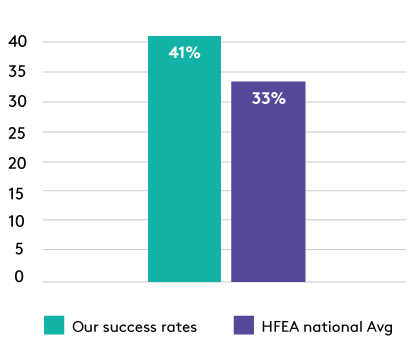 Clinical pregnancies per embryo transferred | IVF & ICSI | July 15 - June 16 | CREATE Fertility St Paul's

For more information please visit HFEA
How to start treatment
If you need safe, innovative and quality IVF treatment, abc ivf should be your first choice. We're the lowest cost private clinic in the UK, so
take that first step and book your initial consultation and scan with our experienced consultants.

Book appointment
Book your appointment
The first step to starting treatment with us is to book an Initial Consultation & Scan
Book appointment