Why do we have criteria?
We believe that our treatments are suitable for the majority of IVF patients. However, we want to keep your IVF journey simple, safe and effective so we have some criteria which our patients need to meet:
BMI below 32 – We are able to see women with a BMI no higher than 32 for a scan and consultation but this needs to be 30 or under to start treatment. Our simplified process and protocols are not suitable for women with a BMI of over 30 as there are increased health and safety risks for women with a high BMI, and therefore a more personalised fertility treatment is required.
Age 39 or below – Our protocols have been developed to give the best success rates for women of this age. Women over the age of 39 normally require a more complex and personalised fertility treatment.
Good ovarian reserve – Women with low ovarian reserve are likely to respond poorly to our simplified process and protocols. If you have a low ovarian reserve you will require a more personalised fertility treatment.
What if you don't meet the criteria?
If you do not meet the treatment criteria at abc ivf don't worry, we can stil help you by referring you to our sister clinic - CREATE Fertility. CREATE are experts in successfully treating more complex fertility issues.

If you don't meet the abc ivf criteria, phone us and we will be happy to put you in touch with CREATE Fertility.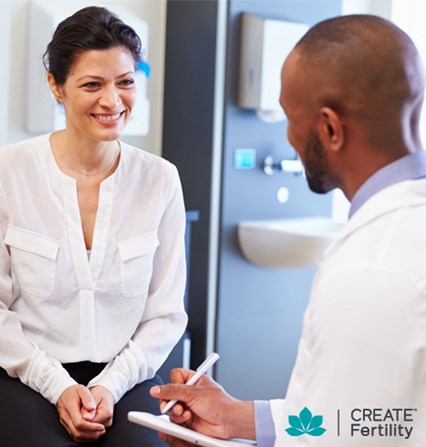 Frequently asked questions
What can I do if I am not eligible for treatment at abc ivf?
If you do not meet the abc ivf eligibility criteria, we may still help you by referring you to our sister clinic, CREATE Fertility, for specialist treatment.
abc ivf offers a simplified IVF treatment for patients with normal egg reserve and we have eligibility criteria to ensure that our treatment protocols will give an excellent chance of success at a low cost.
CREATE Fertility specialise in treating women and couples with more complex fertility issues and also those with low ovarian reserve. They do not have any selection criteria and treat women up to the age of 50.
What is the first step to starting treatment?
The first step to starting treatment at our clinic is to book an Initial Consultation and Scan. This is a 45 minute appointment with a specialist Nurse Consultant.
The first part of the appointment includes an advanced Pelvic Assessment Scan which will help us assess your egg reserve, the health of your uterus, endometrium (lining of the womb), ovaries and follicles.
You will then have a consultation with your Consultant who will explain your results, discuss your medical history, answer any questions you may have and talk you through your individualised treatment plan.
If you are ready to go ahead, you can start treatment as soon as your next menstrual cycle.