How to start treatment
If the female partner is aged 37 or under, with a BMI under 30 and has a good ovarian reserve the first step to starting treatment with us is to have an Advanced Ultrasound Scan & Virtual Consultation with one of our highly experienced Fertility Nurse Consultants.


Save £200

on the cost of your Scan & Consultation by booking today.


Only £210

 instead of £410.
Book consultation online
Call 0330 0580 800
SPECIAL OFFER: £200 OFF SAVE 50%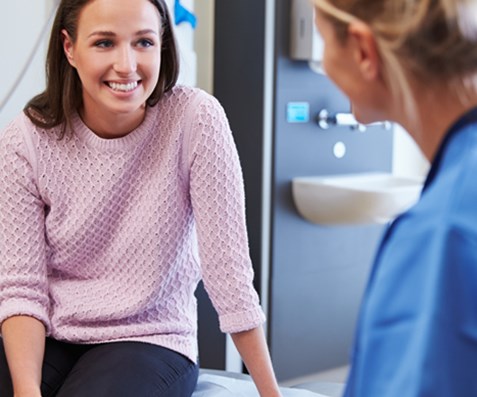 What happens next?
You will be booked into your local clinic for your advanced ultrasound scan which checks over 30 areas of your fertility
Your Nurse Consultant will look at your follicles & the health of your uterus to determine what treatment plan is right for you
You will then have your Virtual Consultation with a highly experienced nurse consultant which you can do via video or phone, from your own home to discuss your fertility.
We can then personalise your treatment plan, designed to give you the best possible chance of having a baby
Frequently asked questions
Who can have treatment at abc ivf?
abc ivf is most suitable for younger women (aged 37 or under) with good/normal ovarian reserve.
The female partner undergoing treatment should:
Be aged 37 or under
Have normal/good ovarian reserve (AMH above 12 or FSH below 12)
Have a BMI under 30
Click to see full eligibility criteria.
abc ivf is designed to help couples and single women who wish to access IVF and are not eligible for IVF treatment via the NHS for non-medical reasons, have run out of NHS funding, have failed cycles via the NHS or those who have been priced out of the private IVF market.
If you do not meet the abc ivf criteria, we may still be able to help you. abc ivf is a partner clinic of CREATE Fertility, one of the UK's biggest fertility providers, and will be able to refer you to them for specialist treatment.
What's included in the Complete IVF Package?
At abc ivf we are very proud to be able to offer the lowest cost per IVF cycle in the whole of the UK, but our aim is also to shift the IVF world towards 100% transparent pricing.
With this in mind we have chosen to lead the way and to offer a Complete IVF Package with no hidden costs for the IVF cycle.
Our Complete IVF Package includes:
Treatment consultation
Screening tests
Monitoring scans
Blood tests
Medication*
HFEA fee
Expert clinical advice
Sedation fees
Egg collection
Embryo transfer
Early pregnancy scan

We do also offer treatment to couples where male factor infertility is present who may require additional techniques such as ICSI.
If you require donor sperm for your treatment or any additional techniques, these will be an additional charge. We've attached a full price list below for full transparency.

*to see the medication included in package, see our terms and conditions and 'What other costs might I have to pay?' below.
When do I pay for my treatment?
You will be required to pay a deposit after your Initial Consultation and Scan to secure your Treatment Consultation. The outstanding amount will then be taken after your Treatment Consultation.

Please see our Terms and Conditions for details.
What treatments does abc ivf offer?
abc ivf offers couples and single women the lowest cost of IVF cycle in the UK. We also offer additional techniques alongside our IVF treatment protocols, such as ICSI, for couples where male factor infertility is present.
IVF (In vitro fertilisation)
IVF is the process of fertilising eggs and sperm outside of the human body, in a laboratory dish. During IVF, the woman's eggs are collected and mixed with sperm in the laboratory where their fertilisation will be monitored. The embryos created will then be transferred into the woman's womb to grow and develop.
ICSI (Intracytoplasmic Sperm Injection)
ICSI is the technique where a sperm is selected in the laboratory and injected directly into the egg. This differs from standard IVF, where prepared sperm are left in a petri dish with the egg to fertilise naturally. ICSI technique is effective for several types of sperm problems and can facilitate fertilisation even with low quantities or quality of sperm.
If you require any additional diagnosis tests or complex fertility treatment, we can refer you to our partner clinic CREATE Fertility where you can receive specialist treatment.
Donor sperm
abc ivf can also offer low cost IVF treatment to single women and lesbian couples using sperm donation. Donation services must be arranged with CREATE Fertility.