Take your first step
Whether you are looking to start IVF, IVF with ICSI, IVF with Donor Sperm or Egg Freezing your first step with us is to have an Advanced Ultrasound Scan & Virtual Consultation with one of our highly experienced Fertility Nurse Consultants.
We do have some simple criteria which the female having treatment needs to meet, no older than 39, have a BMI no higher than 32 and have a good ovarian reserve.
Book your Scan & Consultation today from only £150
For more information on consultation pricing see our FAQs.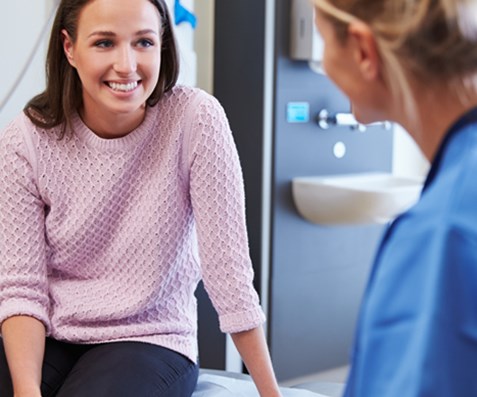 What's included in the scan & consultation price?
An Advanced Transvaginal Ultrasound Scan which gives you comprehensive information about your fertility
A video consultation with a highly experienced fertility nurse consultant
A tailored treatment plan designed to give you the best possible chance of having a baby
A detailed breakdown of treatment costs
A patient coordinator to help support and guide you through the whole process
Frequently asked questions
How long is the scan appointment?
Your transvaginal ultrasound scan takes place in-clinic and usually lasts around 30 minutes.
How long is my ultrasound scan valid for?
Your Advanced Ultrasound Scan is valid for 3 months, if you decide to start treatment after this you will need to have another scan.
Can I bring my partner to appointments?
If you are having treatment with a partner, they will need to attend the first appointment and the treatment consultation. It is not necessary for your partner to attend the monitoring appointments. You need to have someone to accompany you to the Egg Collection and to ensure you can go home safely; usually patients bring their partner, though this can be a friend if the partner is not needed to produce a sample.
For most couples, IVF treatment involves both emotional and physical stress, therefore support and understanding are a very important part of this momentous journey.
Do I need to have my scan at a certain point in my cycle?
No, you can come for your transvaginal ultrasound scan on any day of your cycle, including during your period as long as you are comfortable with this.
Who can have treatment at abc ivf?
abc ivf is most suitable for younger women (aged 39 or under) with good/normal ovarian reserve.
The female partner undergoing treatment should:
Be no older than 39 years old
Have a BMI under 32 for consultation & 30 or under to start treatment
Have normal/good ovarian reserve (AMH above 10)
Click to see full eligibility criteria.
abc ivf is designed to help couples and single women who wish to access IVF and are not eligible for IVF treatment via the NHS for non-medical reasons, have run out of NHS funding, have failed cycles via the NHS or those who have been priced out of the private IVF market.
If you do not meet the abc ivf criteria, we may still be able to help you. abc ivf is a partner clinic of CREATE Fertility, one of the UK's biggest fertility providers, and will be able to refer you to them for specialist treatment.
Why do consultation prices vary?
Our scan and consultation appointments use dynamic pricing based on current clinic resource. The price of a scan and consultation varies from £200 - £410. Please see on our online booking calendar for current accurate pricing.
Please be aware, if you wish to reschedule the baseline scan, you may incur a charge to cover the difference in cost from your original consultation price (baseline scan and virtual consultation) and that of the new booking. We will make you aware of any cost difference when rescheduling. To view our terms and conditions, click here.