What is IVF?
In vitro fertilisation (IVF) is a technique used to help women and couples with fertility problems have a baby.

Unlike natural conception, during IVF, a woman's eggs are collected from her ovaries and fertilised with sperm in the laboratory. Any embryos created in this process, will later be placed back into the womb to grow and develop.
Get in touch
If you have any questions about IVF at abc or how to start treatment please contact our experienced team who will be happy to help.


How much does IVF cost at abc?
Our all-inclusive packages include absolutely everything you need during your cycle.


You'll pay
no more than £2,500
Who is our IVF suitable for?
In order to deliver successful treatment patients need to meet some simple criteria guidelines:

AMH above 12

It's important to understand that our simple criteria act as guidelines; each case will be assessed on is own circumstances, so please do get in touch with us if you meet the above criteria, are very close to meeting it, or simply are unsure.
What are our IVF success rates
We are very proud of our IVF success rates. Being able to achieve results much higher than the national average, while offering our patients the lowest cost in the UK is a great achievement.
View our success rates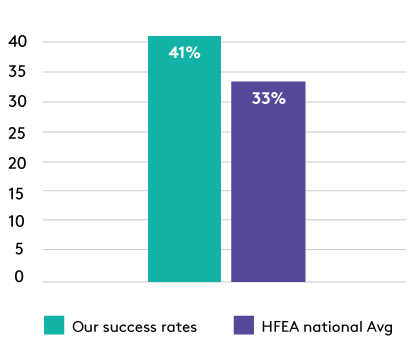 Clinical pregnancies per embryo transferred | IVF & ICSI | July 15 - June 16 | CREATE Fertility St Paul's

For more information please visit HFEA
Book your appointment
The first step to starting treatment with us is to book an Initial Consultation & Scan
Book appointment