Why come to abc ivf?
Our dedication and commitment to making IVF treatment more affordable has come from our Medical Director, Professor Geeta Nargund.

For over a decade Professor Nargund and her team have been campaigning, researching and innovating ways in which we can deliver excellent IVF success rates at a much more affordable cost; abc ivf is the results of their efforts.
Excellent success rates
We know success rates are one of the most important factors when choosing a fertility clinic. Our success rates are well above the UK average.
All-inclusive, transparent pricing
There are no hidden costs, no unnecessary extras and no add-ons, just one, simple all-inclusive price.
High quality treatment
With the combination of simplified treatment protocols, technology and a streamlined patient journey we are able to offer successful IVF at the highest quality.
Our mission
Our mission
We are a dedicated fertility specialist team, led by Professor Geeta Nargund, on a mission to deliver our patients only the highest quality of medical care, but at a fraction of the cost. Our fertility specialists have over 50 years combined experience in fertility so be rest-assured you're in very capable hands when you come to abc ivf.
Simplified, high quality and successful IVF treatment.
Conventional IVF is expensive because many clinics have long treatment protocols reliant on multiple appointments and intense doses of expensive fertility drugs, coupled with high laboratory costs.
The combination of our simplified treatment protocols, technology and a streamlined patient journey allows us to offer successful IVF at the most affordable cost in the UK; without compromising our quality of care or treatment success rates!
How we do it
Pay no more than £2,750 per cycle.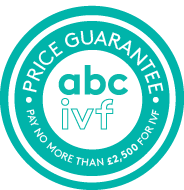 What our patients say
There is nothing more rewarding than helping our patients have a healthy baby. We take great pride in offering the highest quality of care at the most affordable price, and this is reflected in the wonderful reviews our patients have given us.
There is no lack of information around about fertility and IVF treatment, the difficulty is shifting through the available information to find something that's right for you. Here we uncover the IVF secret fertility clinics don't want you to know.