Supporting our patients
We know that times are tough at the moment, but that doesn't mean that you should need to delay starting your family.
At abc ivf, it has always been our mission to make IVF accessible to as many people as possible, and we continue to offer our high-quality IVF treatment at an affordable price. 
AMH & Semen Analysis Offer
To help support our patients further, we are offering new patients a FREE Anti-Müllerian Hormone (AMH) Test and/or a Semen Analysis for £135 when you book your Ultrasound Scan & Virtual Consultation appointment between 1st - 31st December 2023.
To make use of this offer, please call us to book on 0330 0580 800. 
*Terms and Conditions apply – click here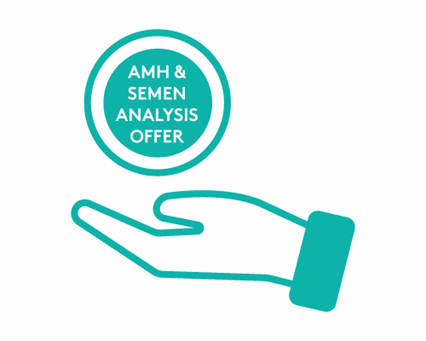 AMH & Semen Analysis Offer
AMH test and Semen Analysis Promotional Conditions
These offers are only available to 'new abc patients' who have not purchased an abc cycle before.
Offers are only valid for one AMH test and one Semen Analysis per couple.
The free AMH test will only be offered if medically required. This will be decided at baseline scan.
Offers cannot be used in conjunction with any other offers except Initial Consultation offers. 
Offers can be adjusted or removed any time.
Full standard treatment terms and conditions apply.
Standard cancellation and refund policy apply.
Offers are valid from 01/09/2023 until 31/12/2023.