What is Egg Freezing?
As women grow older, the quality and quantity of their eggs can decline; making it more difficult to have a baby.

Egg Freezing involves stimulating the ovaries to mature eggs before they are ready to be collected and frozen in the laboratory using the latest technology called Vitrification (fast freezing).

If you have any questions about egg freezing or how to start treatment please contact our experienced team who will be happy to help.

Call 0330 0580 800
Book appointment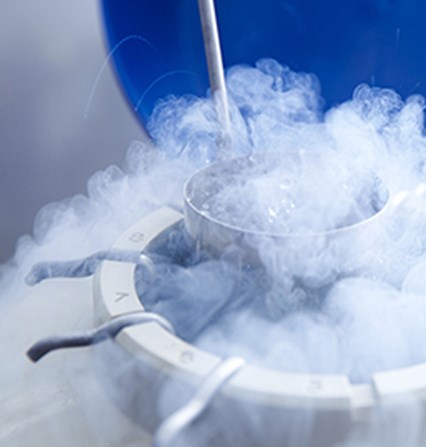 What's included in your egg freezing package?
Our Complete Egg Freezing Package includes everything you'll need for your treatment:
Treatment consultation
Medication
HFEA fee
Screening tests
Monitoring scans & bloods
Clinical advice
Sedation fees
Egg collection
1 year storage

What's not included:
Annual storage for eggs is £350 per annum
Frequently asked questions
What additional costs will be involved in an egg freezing cycle?
Your egg freezing cycle includes first year storage, but you will need to pay an annual storage cost after that. When you are ready to use your eggs, there is then the costs of fertilisation by ICSI procedure and the frozen embryo transfer.
How many egg freezing cycles will I need?
There is generally no need to plan more than one cycle, unless your consultant has advised this during your consultation. We will aim to get the best out of one cycle so that you get a good number and good quality of eggs. If we don't collect an adequate amount of eggs in the first cycle, then we will advise to do another.
If have irregular periods, is egg freezing still an option for me?
Yes, it is still an option. We will tailor the treatment for you. Sometimes we induce your period by giving you some progesterone tablets, and then you can begin your egg freezing cycle.
Do I need to have my initial scan on a particular day of my cycle?
No, you can have your initial scan on any day of your cycle. We know how to interpret the scan based on where you are in your cycle.