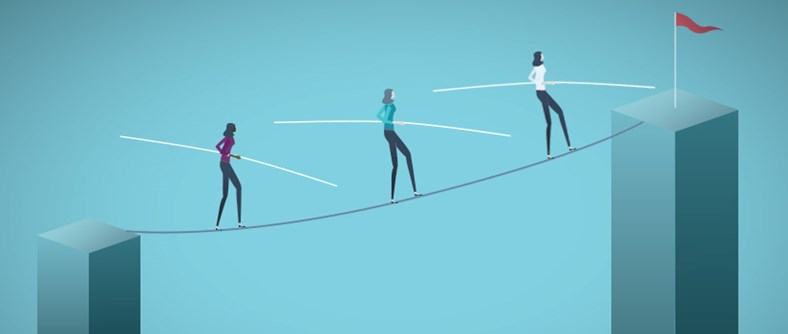 Fertility struggles are no straightforward path, they're messy and complicated and unpredictable and, to be completely honest, a lot of doctors aren't all that sympathetic about it - short of passing you a tissue (which are – as you would expect – dotted around fertility clinics in abundance). The doctors do the sciencey bit – you have to source your own shoulder to cry on and this is where the "trying to conceive" community online can help. They not only offer up a whole host of metaphorical shoulders but they're also, often, an incredibly useful pool of information.
Need to ask a TMI question about your cycle? Fancy a rant about Mrs Down-The-Road-Who-Just-Welcomed-Her-10th-Child? Want to watch a video tutorial about administering the hormone injections? It's all there on the World Wide Web – you just have to know where to look.
Below are some of my favourite UK fertility bloggers who each have their own journey and their own style. Some of them have had success with IVF, some of them haven't, some are going through the process alone, others are looking at looping in a third person as surrogate, some have experienced loss and others have never seen the slightest whiff of a second line on a pregnancy test. All of them, however, provide a voice that those experiencing fertility difficulty will find comfort in.
Follow the links to visit their site or find them on Instagram (which I highly recommend you do.) Lauren, author of this blog and The Dinky Blog, can be found on Instagram here
Here is my top list of infertility blogs to follow:
Uber Barrens Club
A witty, informative and completely unfiltered blog written by Katy the "Uber Barren-ess". Katy writes in detail about her own experience with infertility which has included IVF, miscarriage and a very uniquely challenging journey. Additionally, her work on less personal infertility topics are regularly featured in the Metro and she is now working on her own book – watch this space.
Click here to visit her blog page and here to find her Instagram account.
This is Alice Rose
Alice is on a mission to empower people during fertility struggles and the content on her website is honest, sensitive and current. Alice now has a daughter, conceived through IVF and she speaks openly about her struggle to get to that point. She is pioneering a positive change in the way infertility is viewed and her "Think! What Not To Say" (TWNTS) campaign has been making some big waves across social media.
Visit her website page here and check out the video on her Instagram page by clicking  here.


It's Mostly Okay
Emma, a mother to one small person, describes herself as a loud laugher, an average hockey defender and an all-round dork. She started the blog "It's Mostly Okay" in 2014 when her daughter was nine months old and life was full of, in her words, "fluffiness and marshmallows". Secondary infertility was something she never knew existed but, frustratingly, became something that she went on to struggle with for 3 years (and counting) trying for a second child. After 3 rounds of failed IVF and a missed miscarriage, Emma finds writing on her blog incredibly cathartic and has enjoyed connecting with readers experiencing similar issues.
Click here to visit her blog and click here to find her on Instagram.
The Stork and I
This blog was created to support single women looking to embark on the journey of solo motherhood. It covers a wide range of topics from making the initial decision and choosing a treatment plan, right the way through to managing as a solo parent. Expert guests are regularly featured on the blog discussing all things fertility and the content is aimed at the solo mum audience.
Click here to visit the blog and click here to find the page on Instagram.
The Wandering Wilsons
Sarah's blog offers a very real and current insight into the highs and lows of fertility struggles. Her experience has included miscarriage, failed IVF and, most recently, a successful pregnancy following IVF treatment. Sarah went through IVF with the NHS and then at a private clinic and she writes about the experiences of each on her blog as well as sharing things she did differently for each round of treatment.
Click here to visit her blog and click here to find her on Instagram.
Mrs Meaks
Kate's blog is one of the very first that I followed and is truly inspiring. Kate writes in detail about her difficulty conceiving and the ups and downs of IVF which ultimately resulted in her son. In her quest for baby number 2, Kate continues to share her journey and regularly features the voices of other women on her blog. Kate and her husband, alongside their fertility treatment, now also deal with another layer of complexity and heartache as they come to terms with his brain tumour diagnosis. Despite all of this, Kate shows nothing but strength, humility and positivity (interspersed only by her passion for fashion) on both her blog and her Instagram page.
Check out her blog here and find her on Instagram by clicking here.
Fat Positive Fertility
Nicola is a fertility coach whose focus is, in her words, "fat positivity". She dives deep into the fat phobias that often surround fertility and speaks openly about how to have a "fat positive" fertility journey. Nicola is an Acupuncturist and Naturopath and her blog contains a wealth of information as well as her own personal experiences with PCOS, irregular cycles and 2 successful pregnancies.
Click here to visit Nicola's blog and click here to find her on Instagram.
That M Word
That M Word is a miscarriage awareness support site written for both men and women and providing practical advice, useful information and real stories for those who are going through a loss or having to cope with a termination for medical reasons. This blog covers very difficult topics but manages to balance out the heavy stuff with hope, learnings and a sense of togetherness.
Click here to visit the blog.
Defining Mum
Becky is now a mum of 3 – something that at one point she never thought would be possible. She writes on her blog about how DNA has no place in the definition of what it means to be a mother and she shares her story of infertility, numerous IVF cycles, loss, early menopause and then success with donor eggs.
Click here to visit her blog and click here to find her on Instagram.
Bide & Bloom
Sarah created a blog about life after baby loss earlier in the year and she shares her own story – which involves the loss of 5 pregnancies. Her blog provides a resource for secondary infertility and recurrent miscarriage as well as details of her experience with fertility treatment in the UK and overseas. Sarah is passionate about self-care and has made this a priority whilst her fertility plans are on hold.
Click here to visit Sarah's blog and click here to find her on Instagram.
Jillian Lithgow – Unexplained Infertility
Jillian's blog was created when the constant question of "when are you going to start a family" became unbearable and she has found huge relief in opening up about her situation. Her aim is to raise awareness and recognise the damaging affect that infertility can have on mental health. She has found so much support since opening up about the roller coaster of emotions during fertility struggles and hopes to give back that same support to others going through a similar journey.
Click here to visit her blog and click here to find her on Instagram.
Big Fat Negative
Last - but by absolutely no means least - is the Big Fat Negative podcast which, for the purposes of this listicle, we will call an audio blog. The hosts – Gabby and Emma – broadcast weekly 1 hour talk sessions covering all things fertility: from their own personal treatments to the latest fertility "trends" and everything in-between. Their chatty and fun nature makes this a really easy listen and I've learnt SO much about the IVF process from the experts and guests that join them each week.
You can listen to this podcast by installing the Acast app and searching "Big Fat Negative" and you can find them on Instagram by clicking here.
And there you have it, some of the most inspiring blogs on infertility journeys. Think there is one missing? Please share this post and tag the blog in the caption!