abc ivf made our dreams come true!
As soon as my partner and I got together, we spoke about having children and I decided to stop taking the pill. A few months went past and when we realised that nothing was happening, we agreed that if we aren't successful by the time we've finished planning our wedding, we would both go to get checked out.
At that time, my husband and I were registered at different GP practices, so we both went to our GPs to explain our situation and got referred for some fertility tests. My results came back fine, however, we discovered that my husband had low sperm count. Since we were likely to need fertility treatment, my GP advised me to transfer over to my husband's practice so that we had everything in one place. That made sense to me, so I made the transfer.  
It was only after I had transferred everything over, we were informed that we were not actually entitled to any fertility treatment. If I had have stayed with my original GP, we would have been entitled to one free cycle! All because of the postcode.
That was a really difficult pill to swallow; it just felt so unfair. We were also really stressed because straight away, we knew that meant we would have to pay for private treatment. We then began looking around at different IVF clinics in London, but none really stood out to us. When you're at the beginning of the journey, you don't really know what to look out for. They were all claiming the same things and all the prices were very similar too. It was actually one of my friends who I met in an infertility support group who recommended we take a look at abc ivf. That was the first time I had heard of it.
When we saw the price, we were extremely surprised and thought there must have been a catch because the price was so much cheaper than the other clinics we had looked at. abc ivf offered an all-inclusive IVF package for just £2,500 (which was almost unbelievable!), so I asked the friend who had recommended the clinic whether that's actually what she paid, and she confirmed that it really did cost just £2,500. She put our minds at ease, so we started looking further into it.
The more I read up about them, the more I began to understand the reasons behind their affordable packages. The fact that they use a short protocol also appealed to me because I was healthy and fertile. Since there was only an issue with my husband's sperm, it made sense that I didn't need lots of medication. Even before finding abc ivf, the thought of having to pump myself full of hormones was really hard to accept, so it was amazing that I managed to find an affordable clinic which offered a protocol that would be kinder to my body. Their approach and the price really made abc ivf stand out above all the other clinics.
We booked and attended an Initial Consultation and Scan, which is the first step to starting treatment, and we couldn't have left that appointment any happier. We actually booked and paid for our treatment right there and then. All of our questions were 100% answered and we were made to feel so comfortable that we didn't want to delay starting treatment.
I have a phobia of needles (which really isn't ideal if you need to have IVF!), so when I came in for the Treatment Consultation I mentioned that to the Nurse. She then took her time to talk me through all my medication, and she even took time to show me exactly how to administer the different drugs to make sure I am as comfortable as possible. This really put me at ease. She made sure I knew exactly what I had to do and wasn't scared.
Once the treatment had started, the team were so supportive. If I had any questions or worries, they would get back to me straight away. I felt like they really cared about me throughout my journey.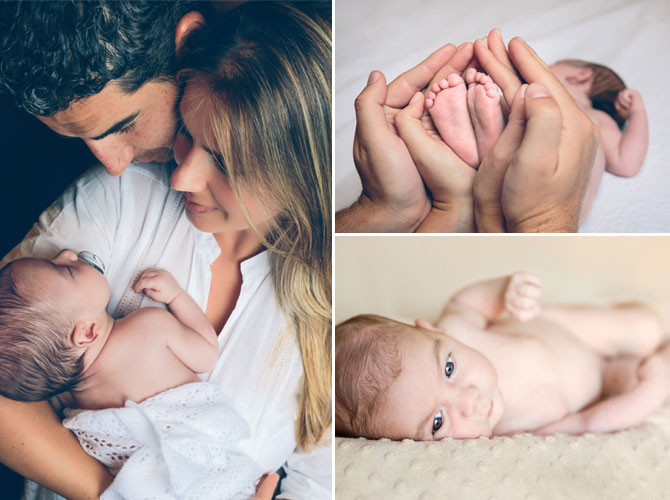 Even when we had to go to their sister clinic, CREATE Fertility, for the Egg Collection procedure, the continuity of care was amazing. My husband had to go and produce a sample, and when it registered that I was all on my own, I burst into tears. The doctor that was doing the procedure came over to me, asked me what's wrong and sat there with me until my husband got back to make sure I was okay and didn't feel like I was on my own. They were absolutely lovely!
We got 8 eggs. 7 were viable for ICSI and 5 of those eggs fertilised! We were quite keen for a double embryo transfer, but the doctors recommended we go for a single transfer. However, we both have twins in our family so even if we were to conceive naturally our chances of having twins were quite high. The doctors talked us through every single risk associated with a double transfer and potentially a multiple birth, but we still wanted to go for a double. They had a meeting about whether it would be safe to do so and decided to let us as long as we are 100% sure we understand all the risks.
The two-week wait was hideous. It was really hard because every single twinge I would get I became paranoid about and think it's somehow related to treatment. I also had a few of the symptoms of my period starting, so I started to believe that it was all over, and treatment hadn't worked. That was when I decided to take a home test, which confirmed my worst fear – a BFN.
A few days later I had my scheduled pregnancy blood test at the clinic. I knew the result would take a few hours, so I decided to do another test at home. This time it was positive! I called the clinic frantically to see if my blood results were ready. They were so happy to confirm that I was indeed pregnant. I just cried when they told me. It really goes to show that there is a good reason everyone tells you not to test early! Both my husband and I were at work when I received the news, so I decided to wait and tell him in person.
When I got home and told him, he was in shock and couldn't believe me. We took another test together and he finally saw the words 'pregnant' for himself. After that, we were just hugging for about 15 minutes, enjoying the moment we'd been waiting to have for such a long time.
For years I kept on asking myself when it would be my turn, and after a while I started to accept that maybe there won't be any children in our future. That was really hard for me because I am a nanny, so I've been looking after kids since I left school. For me to even be pregnant, was absolutely amazing. Even now I still can't believe that it's real.

Sam & Tom x

*Names and images have been changed for patient confidentiality purposes.