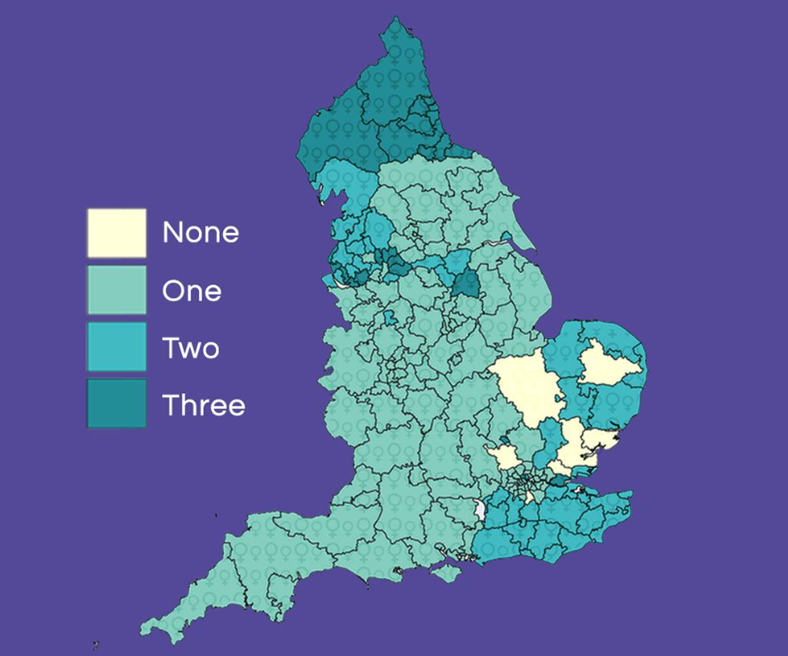 However, at a time when knowledge is increasing and medical science continues to create ground-breaking advances, fertility treatments are, wrongly, becoming inaccessible for all.
NHS funded IVF treatment, in the UK, is not standardised and is very much a postcode lottery. This is mainly because local CCGs (Clinical Commissioning Groups) have been given the authority to control how many cycles, if any, are provided in their area. Eligibility, therefore, can vary massively from one region to the next; approval for NHS IVF funding can truly come down to the luck of living on the right street.
In 2017 only 35% of all IVF treatments, in England, were funded by the NHS, compared to 62% in Scotland, and not only is it distributed unfairly throughout the UK, but the criteria are strict. In certain areas, NHS treatment can be refused due to; age restrictions, where the woman is over 35, BMI calculations, of both partners, and if either patient has living children. A handful of CCGs will offer IVF on the NHS if one partner has a child from a previous relationship, but this is not standard practice within England. And nowhere offers IVF on the NHS for couples wanting a second child. Secondary infertility, it appears, is not classed as a valid issue in the UK.
Whilst IVF is often billed as the main "cure" for infertility, it's important to remember that not every couple struggling to conceive will need to embark upon that route. According to NICE guidelines (National Institute for Health and Care Excellence), unless there is a pre-diagnosed condition which is known to affect fertility, couples should try to conceive, naturally, for around two years, where the woman is under 35. Whilst waiting so long feels utterly interminable and the anxiety it brings is insurmountable, it's not without reason, as it's understood that 80-90% of couples will become pregnant within that timeframe.
Unfortunately, my husband and I were on the other side of that statistic and, after twenty-four months of repeated disappointment, and failure to have the child we so desperately desired, we went to see our GP. The prognosis was grim but there was hope, we were the lucky infertiles; the ones who happened to live in an area whereby we met the criteria and received two NHS funded cycles of ICSI. When those attempts both failed, we were also fortunate that we could self-fund a certain amount of treatment, eventually holding our son four years and multiple cycles later. Sadly, IVF does not guarantee a pregnancy or a live birth, but it does provide patient choice, an increased chance and the right to try; which I firmly believe everyone should be entitled to; financial affluency should not be a pre-requisite for having a child.
For some, a lack of NHS funding for IVF can, devastatingly, mean an end to the dream of having a much longed for family. As Lauren Fen discovered, private fertility treatment is expensive and unfortunately not always a feasible option:
"My husband and I investigated our fertility with the NHS and we now await our first round of IVF. We never even considered doing any of this privately for one simple reason - we can't afford it."
The hefty price tag, which comes with IVF, can also make having a second child, or larger family, restrictive too. For couples who have previously battled through treatments, or those experiencing secondary infertility, it's a reminder that, despite knowing the blessings a child can bring, life still remains decidedly different from the dreams once held.
It's the mission of abc ivf to make assisted reproduction accessible for all by reducing the cost of IVF treatment, but without compromising on standards, outcomes or care. IVF needs to be affordable for people who don't live in the right postcode, affordable for same sex couples, for parents struggling with secondary infertility, or those who don't qualify because one partner already has a child; affordable for anyone who has been refused treatment on the NHS.
Earlier this year, the charity Fertility Network UK presented a 102,000 strong petition to 10, Downing Street, demanding a standardised service, across the UK, and an end to the unfair suffering which the IVF postcode lottery brings. abc ivf were proud to support the #Scream4IVF campaign, which will now be discussed in parliament and hopefully go on to change the future of NHS funded IVF, ensuring the system is equal and fair for everyone. However, until that happens, many despairing couples are still, unfairly, left paying the price to simply have the right to try for a family.